by Diana McCollum
".
Our vacation in June included all of the above and more. I love trying new things and staying in new and different places. While the main part of our vacation was to visit kids and Grandkids we did have some fabulous side trips.
The first three days of our trip to California we stayed at the Railroad Resort in Dunsmuir, CA. Instead of a motel room we stayed in a retired Caboose. There was even a Crow's Nest with stairs inside to climb up to the top. The walls were adorned with pictures of what the Caboose looked like when it was in service. As you can imagine, lots of story ideas popped up during the stay.
From our Caboose we went out exploring each day. Castle Crags State park was just down the road. And we were a short drive from Castle Lake, an Alpine lake created by a volcanic action long ago.
Food Network picture
While staying with daughter Katie & family in Paradise, CA, we watched a Food Network show called
"Diners, Drive-ins and Dives."
It just so happened the host Guy Fieri was critiquing a cafe & bakery in Monterrey, CA. I wrote the name down and when we arrived in Monterrey we made sure to have breakfast at
"The Wild Plum"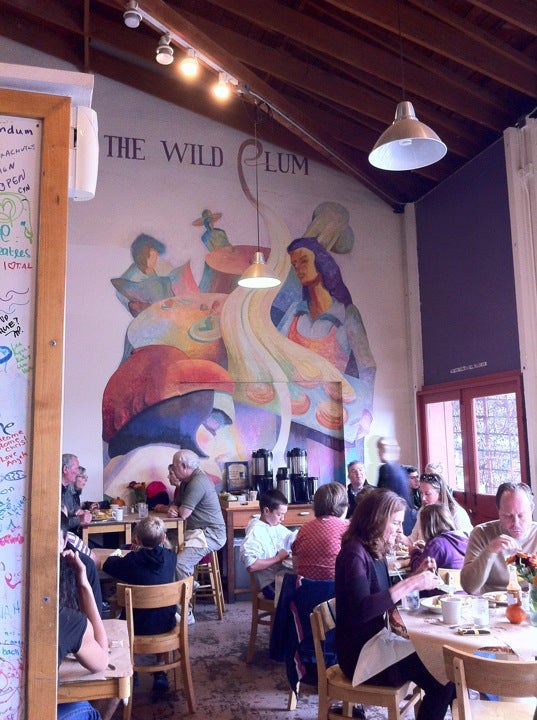 Wild Plum Cafe and Bakery
Out of the way of the tourist traffic, set back from the ocean a few blocks, in an older section of town, "The Wild Plum" proved to be wonderful, medium priced menu, and organic fresh cooked food cafe & bakery. The chef came out and chatted with us and we told her how we found out about the restaurant. Never would have found it, if we hadn't watched the Food network show. My husband and I are foodies. We love trying new restaurants and not fast food or chain restaurants.
Visiting son Paul and his fiance in Monterrey we were privileged to go to the famous
Monterrey Aquarium
with them. I headed for the Octopus exhibit. Can you guess why? I
n my soon to be released novella, "The Witch with the Trident Tattoo"
, Ella the sea witch has a familiar, James the octopus.
Monterrey Aquarium vacation June 2015 by Diana McCollum
This fella in the picture I'm posting was so friendly. He has a large aquarium to swim around in. But he stayed in the corner by us. I'm sure he was trying to communicate. He would stretch out his tentacles feeling the glass where I placed my hand.
We're home now, and back to life in Bend, OR. I'm thankful I have a camera and can look back at all the wonderful pictures and enjoy my trip all over again.
Are you taking a vacation this year?
I write paranormal romance. I released two short stories in the Anthology:
Love & Magick anthology
website:
Diana McCollum
--check out my website for more info on future releases.